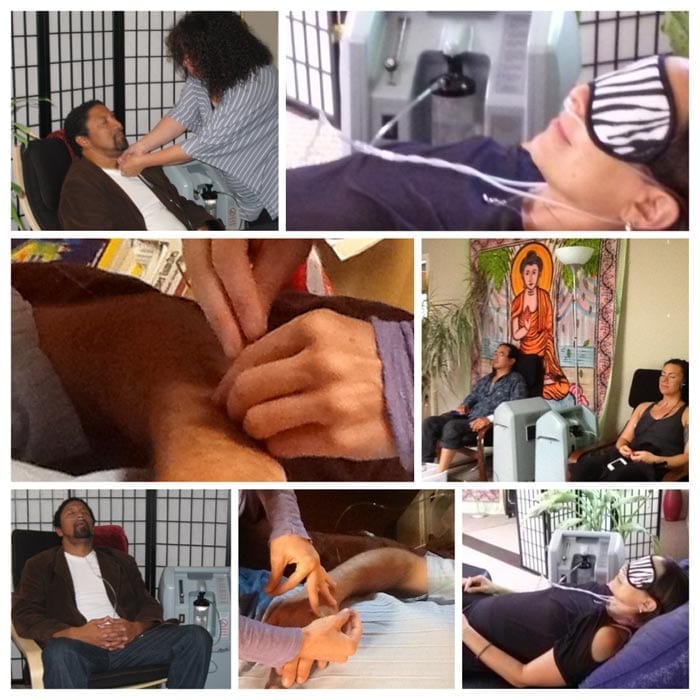 Breathe Health Center and Services is a clinic dedicated to healing and educating its patients to be their own best health advocate and (food pharmacist)?. Our practitioner collective is a diverse team of chiropractors, massage therapists, acupuncturists and exercise leaders who are supportive of one another, and maintain a rotation of part-time hours in our warm & welcoming facility, which also houses the Breathe Zone oxygen lounge. The clinic is located, one block North of the Berkeley BART Station, at the intersection of Shattuck and University Avenues.
We are looking for relaxed, alive and exceptional care practitioners to participate in one of 2 ways:
Option I: Join our Practitioner Collective. We operate on a 60-40 split. You receive 60 percent.
The 40 percent paid to BHC covers:
Rent in amazing downtown Berkeley location

PG&E, Garbage and Water

Phone, Fax, copy

Office cleaning

Slip & Fall Insurance

Office supplies: i.e. Sheet service, massage creams and lotions

Access to the many healing tools we utilize (i.e. Oxygen, WholeLife Health protocols, physiotherapeutic modalities, cold laser, diabetic neuropathy abatement, myofascial cupping tools, Yoga mats, pillows, blankets & more)

Participation in our social media, exposure outreach events & other advertising

Membership to our WholeLife Health Comfort Collective*

Access to reception and scheduling

Access to MVA and or Personal Injury accident cases

Financial bonuses and other earning opportunities
Option II: Independent Contractor room rental. Depending on your time and need, we negotiate a fair price and you schedule and treat your own patients with your own supplies, and leave the room clean.
For more information, or to schedule an initial meeting, call (510) 525-9900 for Dr. Mia Curcuruto or Moishke. Ideal meeting times are Tuesday & Wednesday afternoons.
We will make available bonuses if interested in participating and spreading the word of the services we offer.
*Please keep in mind, the practitioner collective has first priority and if need be we will terminate month to month.
What is the legal difference between employee and independent contractor?
Is there another designation?
Rent, PG&E, Water, garbage, slip and fall insurance
Practitioner responsible for their own:
Phone, Fax

Cleaning

Advertising and marketing

Reception and scheduling